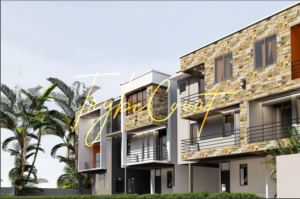 Located at Tse Addo , not far from Trade fair for SALE 
Tse-Addo is an easy link to all your favourite destinations in the capital. For starters, it's only a 15 mins drive from the Kotoka int. airport which makes the community a favourite lodging destination for expatriates and urban dwellers. Commutes to the major Entertainment hubs, Beaches, Hospitals, Retail centres and the main business district all cap under a 30 minutes' drive. Mirroring equally prime neighbouring communities like the Airport Residential Area, Tse-Addo affords you all the serenity and security that comes with burgeoning high end locations.
The Trybe Court  building comes with modern standard features
Backup solar power system
Video gate intercom system
Electric fence
B24hr external cctv surveillance system
Motorized electric gate
Water storage System
Our Home Ownership Scheme (Payment Plan)
Selling Price (4Bedroom): $290,000
Selling Price (3Bedroom): $210,000
1) For Go-Plan
40_50% initial payment with up to 24months to pay remaining amount (to be discussed)
2) For Off-Plan
30-40% initial payment with up to 48months to pay remaining amount. Any extension in months shall attract interest on the balance per the agreed terms and condition.
3) Buy Trybe Court Developed Land & Build Later 
Secure the space (Land) within  the trybe court and build later by following  our specification and floor plan. You have up to 48months to start building (Development time condition)